Ask the Expert: Alona Crowder, Pharm D CDE
Living with diabetes can sometimes be overwhelming.  This section focuses on practical information about diabetes. Experts in various fields related to diabetes will give advice about day-to-day living. These topics will change regularly, so check back often to meet our new experts!
Questions & Answers with Pharmacist Alona Crowder, Pharm D CDE
1. How should insulin be stored?
Prior to opening insulin vials or pens, patients should store insulin in the refrigerator (2°C to 8°C or 36°F to 46°F).  Once opened, vials and pens can be stored at room temperature (15°C to 30°C or 59°F to 86°F) for approximately one month, or longer. Levemir (42 days), Toujeo (56 days), and Tresiba (56 days) have the longest stability at room temperature. It is important to ask your dispensing pharmacist how long your specific insulin can remain at room temperature.  Always remember to avoid extremes of temperature (too hot or too cold).
2. How should GLP-1 receptor agonists be stored?
Prior to opening, patients can store GLP-1 receptor agonist pens in the refrigerator.  After initial use, patients can store at room temperature for up to 14 days (lixisenatide, dulaglutide), 28 days (exenatide ER), 30 days (liraglutide, exenatide), or 56 days (semaglutide).  
3. What are important things to know about how to inject insulin using an insulin pen?
Remember to use a new needle for each injection.  After first use, you can store the insulin pen at room temperature until expired (approximately 1 month after opening).  Remember to rotate injection sites every few days.
4. What are important things to know about how to inject insulin using a syringe?
Remember to remove any large bubbles by tapping against the syringe before injecting to be sure that you receive the full dose.  Use a new syringe for each injection.  Remember to rotate injection sites every few days.
5. Where can I inject myself with insulin? How about with a GLP-1 receptor agonist?
Most patients prefer to inject in the stomach (2 inches from the navel); however, you can also inject  the top, outer thighs and outer, upper arms.  Remember to rotate injection sites every few days!
6. There are several available insulin pen needles and syringes. What differentiates available needle and syringe types?
Pen needles vary in needle length and needle gauge.  In addition to length and gauge, insulin syringes also vary in volume of insulin held.  For most patients, shorter needle lengths (Example: 4mm or 5/32") are preferred over longer needle lengths (Example" 12.7mm or 1/2") for comfort and reducing the risk of injecting into the muscle.  Needle gauge describes the "thinness" of the needle.  Higher gauge values (Example: 32G) represent a thinner needle than a lower gauge (Example: 29G).  Higher gauge needles are generally more comfortable than lower gauge needles.  For accuracy of dosing, it is important to choose a syringe volume closest to the volume administered with each injection.  (Example: Patients requiring small volumes of insulin may benefit from a 30-unit (3/10 mL) syringe; however, patients administering a higher volume of insulin may need a 100-unit (1 mL) syringe to avoid  requiring multiple injections to administer a single dose.)
7. Managing diabetes can be expensive. Are there any tips to reduce the cost of my medicines?
If you have trouble affording your medications, talk to your pharmacist or provider about your concerns.  Contact your insurance to be sure that the medications are preferred on your insurance formulary (a list of medicines that are preferentially covered by your insurance).  Discuss any alternative options with your provider.  You may be eligible for specific programs that help with the cost of your medicines.  Remember:  never discontinue or "take a break" from medicines without first discussing with your healthcare team.
8. How should I dispose of my used needles and lancets?
It is important to know your specific state's requirements for safe needle disposal.  Recommendations for Maryland include putting used needles in a strong plastic container and putting the plastic container in the trash (not recycled).  Some states (Example: Oregon and Massachusetts) require use of specific plastic containers or certain disposal locations.  Check out safeneedledisposal.org for information regarding your state's requirements for disposal.
9. Do you have any tips for reducing the pain of insulin injections?
Ask your diabetes provider about using the shortest and thinnest available needles.  Remember to use a new needle each time.  Consider waiting until your insulin reaches room temperature to inject.  If you are using a large volume of insulin, ask your provider if you are a candidate for concentrated insulin to reduce the volume of each injection.
Have a question that you would like to ask?
Submit your own question to be chosen by our pharmacist to answer.  These questions are meant for general knowledge, so please do NOT submit any personal health information.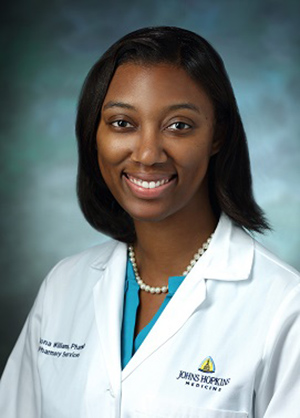 Alona Crowder, Pharm D, CDE
Clinical Pharmacist
Meet Alona Crowder, Pharm D, CDE, our pharmacist and expert of the month!
Dr. Alona Crowder is an ambulatory care clinical pharmacy specialist at The Johns Hopkins Hospital in Baltimore, MD. Dr. Crowder received her Doctor of Pharmacy degree from Xavier University of Louisiana. She completed PGY-1 Pharmacy Practice and PGY-2 Ambulatory Care residencies at Parkland Health and Hospital System in Dallas, TX. Dr. Crowder has been actively engaged in clinical pharmacy for nearly 10 years through teaching, conducting research, and providing patient care in various clinic sites. Dr. Crowder is board certified in pharmacotherapy and a Certified Diabetes Educator. She is also a clinical assistant professor at University of Maryland School of Pharmacy. Recent areas of research include involvement with quality improvement interventions to reduce hypertension health disparities and assessing the impact of pharmacists providing telemedicine to improve diabetes management. Dr. Crowder is also a contributing author for diabetes monographs in the "The Johns Hopkins POC-IT Diabetes Guide" which is utilized by institutions worldwide.